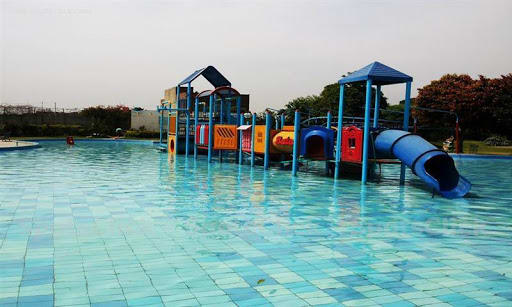 Sozo Water Park Lahore is a fantastic spot to visit in the scorching heat of summer and is one of the largest water parks in Lahore. This place has something for everybody from large slides to wave pools.
Sozo Water Park is situated on Canal Bank Road in Lahore. It's close to several of Lahore's renowned places. Bismillah Housing Scheme and Paragon City Lahore are within 12 minutes and 18 minutes drive from the Sozo Water Park.
Sozo water park ticket prices are very economical, the prices are different for kids and adults starting from 300, and also it varies for different weekdays.
It is Pakistan's only place with a separate water park reserved for women. Sozo Park offers entertainment and pleasure to the whole family with several water sports sections, slides, and water playgrounds.
Cleanliness is one of the major issues of any water place or pool area, according to the management of Sozo Water Park, swimming pools and activities inside Sozo Water Park are efficiently treated with chemicals.
This treatment prevents the survival of bacteria and germs in the water. Silica and rocks are occasionally used to alter and filter the water to remove any trace of dirt and pollutants. Water beds in the park are cleaned by management using robots imported from the UK.
The safety factor in a water park particularly involving children is very important. The Sozo Water Park rides are tested and approved for structural safety by engineering specialists of Lahore University of Technology.
The rides and slides at the park were planned, created, and rigorously tested by professionals in several settings before opening up to the public. Every day before the opening hours of the Sozo Water Park, a trial is held on all trips and slides. A test run is conducted on all rides and slides before opening each day.
For adventure seekers, the Sozo Water Park provides a wide range of exciting activities. A speed slide, racer slides, a wave pool, a bullet slide, and a free-fall slide are included in the park.
In peak hours of the day, the park is overcrowded with visitors. The lazy river is also an attraction for those who can swim well in 10-foot wide water. The place is having slowing moving water like a river and ideal for family and kids to enjoy. Kids can use tubes to swim in it. It is among the best water parks in Lahore.
Sozo Water Park is Pakistan's first-ever amusement park to offer a women's water park, covering a wide area.
It features a spacious and wide water slide that can accommodate thousands of people at once, allowing pleasure seekers to spend a significant amount of time. In the women's only part of this water park, children under 10 years of age are also permitted.
If you are interested in organizing a group party with friends or your family, Sozo Water Park can make special arrangements. Sozo Park has adequate room to accommodate up to 50,000 guests with the food option.
The food is cooked in the in-house Sozo Grill restaurant. The huge lawn can accommodate 10,000 people and many events are held here in the park's lawn area.
A minimum of 50 people can book as a group. A protocol officer is provided to each group so he can guide and help accordingly. The famous dolphin show Lahore is also held in this park. All these facilities make it an international standard park. Sozo Park provides excellent facilities to hold an event.