Lahore is a city with a history of centuries, the friendliest people, and some of Pakistan's greatest food. Lahore is a cultural heart and food capital; it is full of life, activity, and colour. The city has known as the 'city of gardens because of its abundance of green spots and parks. Since it is the capital city of Punjab, Lahore has known for attracting many tourists to the reminiscent of the splendid city. So what makes Lahore splendid and historical to visit?
There are beautiful places to visit in Lahore that one thinks they already knew but this city has all kinds of old and modern places to visit and leaves heaven for a travel enthusiast. Though one visits many tourist places in Lahore, every nook and corner of the city has something new to offer for visitors.
For its range of tourism activities, there are many fun places in Lahore. There are limitless alternatives for visiting historical sights, shopping spots, and a variety of eateries.
There are four kinds of transportation options for travelling to Lahore from Islamabad. The air travel costs around 10,000 PKR to 45,000 PKR. Many local buses provide their services and it roughly cost up to 2,000 PKR per person. A personal car costs 5,000 PKR to reach Lahore and it takes 4 to 4 and a half hours to reach the destination.
Suitable months to visit the city are February, March, October and November. Summers in Lahore are too hot and humid. Winter is extremely cold and dry in the city.
Travelers suggest wearing some lightweight clothes when visiting in suggested months, as the weather is not so hot or cold around that time of these durations. To plan to see Lahore, you will enjoy the awes of these stunning tourist places.
Lahore city is full of old historical places and a modern developed city comprising many popular hotels and restaurants. The destination is ideal for explorers as well as family or adding a honeymoon destination. If you plan to find the architecture and the enriched culture, you will enjoy visiting Lahore!
The popular food places to visit in Lahore are the Lakhnavi, Dera Restaurant, Haveli Restaurant, Lahore Food Street, Arcadian Café, Monal Restaurant, The Lahore Restaurant, Banera Rooftop Restaurant, Yum Chinese and Thai, Salt n Paper Village Lahore, The Polo Lounge and many more to visit in the city.
To plan to visit the fantastic city,
Here you will find the top 10 places to visit in Lahore:
1. Badshahi Mosque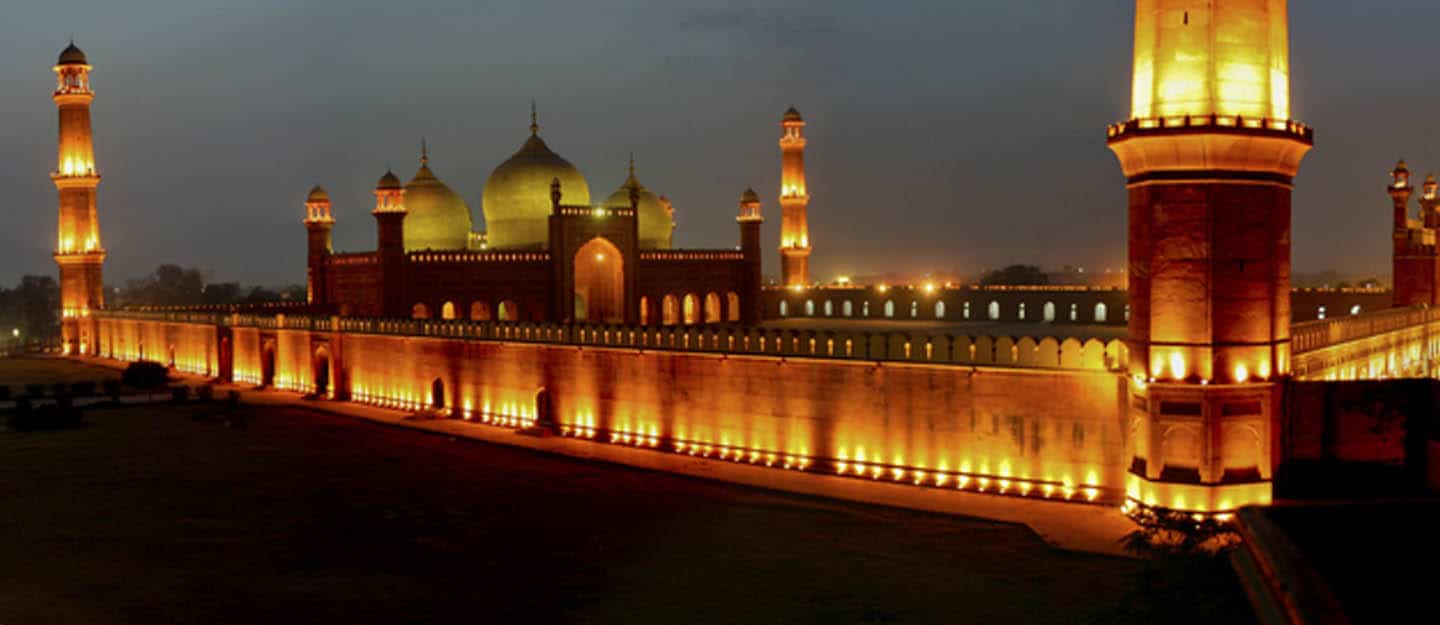 Badshahi Mosque was built in 1671 and completed in 1673. This makes one of the famous places and marks as the most historical places in Lahore, the symbol of the Mughal Empire. It included red sandstones that were typical of the Mughal era, characteristic of its construction.
The enormous mosque courtyard holds up to 100,000 worshipers and is Pakistan's second-largest mosque where it serves the purpose of worship and prayer.
The Sikhs, who governed Lahore from 1799 to 1849, have for much of their history. The Badshahi Mosque as the military base. During this era, the courtyard of the Mosque was a stall for military horses.
After the fall of the Sikh Empire, the British acquired control of the mosque and continued to utilize it as a military post. Badshahi Mosque became finally restored to its original use in 1947 after Pakistan gained independence.
When visiting this place, be sure you are fully dressed and women must wear modest and loose clothing and should cover from head to toe.
2. Fort Road/ Food Street
Wazir Khan Mosque is great to work of Qashani work. It is a wonderful site for photographers and travelers. The blue and green calligraphy represents the rich a beautiful Islamic history. The details may give an impression that this mosque might be built in a long time but it took 7 years to build and was built during the reign of Mughal Emperor Shah Jehan.
Fort Road is a particularly popular restaurant strip surrounded by brilliant and colourful structures. This locates less than a 5-minute walk from the Badshahi Mosque.
Some places have so much detail and are eye-catching to check out. If you are a food lover and want to try various eateries, you will find nothing other than the Lahore food street! This makes a great place where it has different things to do in Lahore.
This makes one of the most fun places to visit in Lahore at night where you can try different cuisines of adding the Punjabi touch to melt in your mouth!
What is even better, there are various restaurants in this area offering a magnificent view of the Badshahi Mosque. Once you enter a restaurant, you will enjoy the stunning view of the Badshahi Mosque! This makes it one of the most famous places in Lahore to enjoy the food street and the Fort Road at night.
3. Lahore Fort
The old Lahore fort is just in front of the Badshahi Mosque, especially if you are a history enthusiast. Back in the 11th century, this castle began as a mud-brick fort and was demolished and again reconstructed for 500 years when Mongols, Timur, and Pashtuns overtook the region.
In the 17th century under the Mughal Empire, the fort has reconstructed and then devastated by the Sikh and British, and has partly repaired. To search for Lahore tourist places where you want to expand your historical knowledge, you can enjoy photography of this stunning spot!
The fort is an enormous complex that will give you adequate opportunity to go about its several palaces, gardens, and museums. The magnificent Sheesh Mahal, 'The Mirrors Palace,' is one of the attractions to behold. This place has constructed by Mirza Ghiyas Begh, the grandfather of Mumtaz Mahal and the father of Nur Jahan.
Shah Jahan ornaments comprise many reflexive glass tiles that have built in 1631. If you are into history and want to know the historical site, you will find nothing better than the Lahore Fort! This makes it one of the iconic places to visit in Lahore.
4. Tomb of Jahangir
Another of Lahore's most important historic sites is the Tomb of Jahangir. The building was completed in 1637, one of Mughal's most renowned monarchs. The building shows a very complex Pietra Dura constructed up of semi-precious stones that add the syncretic style carved in the form of animals.
This has designed a different layout to represent the Persian paradise garden rather than rectangles with a fountain in the middle.
It took 10 years to build this tomb, which makes it one of the best places to visit in Lahore where you can do sightseeing. This will educate you about this tomb to expand your historical knowledge and its great architecture.
5. Wazir Khan Mosque
Wazir Khan Mosque is amazing architecture by Hakim Ilmud Din that has built in 1634. It is a wonderful site for photographers and travelers where you can stop by and get awed by the architecture of this masjid. The blue and green calligraphy represents the rich and beautiful Islamic history to mark the prosperity of the Mughal Empire. This masjid will add the touch of the top places to visit in Lahore.
The details may give an impression that this mosque might be built in a long time but it took 7 years to build and constructed during the reign of Mughal Emperor Shah Jehan.
This marks Lahore places to visit where it leaves the beauty of the Islamic landmark and considers the most standout place to visit near Lahore. To enjoy this sightseeing, be sure to dress modestly without exposing your arms and legs.
6. The Walled City of Lahore
The Walled City of Lahore is just not a monument but it carries a long and old history. This walled city comprises 13 doors, which now only have 6 doors left due to the drastic changes during the medieval era. Dozens of rulers lived through and were around 1000 BC old that marks the fantastic places to visit in Lahore.
The Delhi Gate is one of the most beautiful places in Lahore as it is near the Wazir Khan Mosque as well. But all of these gates are worth visiting equally in which each carries a historical monument that leaves a stunning tourist spot. It takes a lot of time to explore the beauty of this place
7. Kamran's Baradari
One of the most different and beautiful places to visit in Lahore is Kamran's Baradari. The place was named after Kamran Mirza who was the son of the first Mughal Emperor of Babur.
The Baradari was built in 1540 and historians marked it as the oldest structure remains from the Mughal era. This is because the Shahdara Bagh garden has not been converted into a funerary monument. After Babur died, Kamran Mirza seized Lahore and now stands in the middle of the river.
The short boat ride from Ravi will take you to the palace. As a lesser-known place the palace is less crowded even on a Sunday afternoon but a magnificent treat for history buffs. To plan to go on boating to Kamran's Baradari, you need to take a short boat ride through the Ravi river.
8. Data Darbar
Data Darbar is supposed to be the most dedicated religious site in Lahore, with the remains of Data Ganj Baksh, who in the 11th century is reported to have lived here. This place has known as the largest Sufi shrine in South Asia and considers the most peaceful place to visit in Lahore.
Because of its fame and religious importance, this is a very crowded and busiest place that requires a little space to sit and worship. On the annual URS days festival over 1 million devotees visit this place.
The shrine is always full of people and busting with life. This makes one of the most visiting places in Lahore where worshippers come for the death of Sufi saints.
9. Bagh e Jinnah AKA Lawrence Gardens
Bagh e Jinnah is a huge park located on Lahore's mall road. Bagh e Jinnah is also known for Lahore picnic points. This place has Quaid.e.Azam Library, a mosque, and botanical gardens too. The structure of buildings belongs to the 19th-century Victorian style.
It is one of the fun places in Lahore where it becomes fully occupied on weekends and holidays. The park has many sitting places and food stalls which, makes it the best place to have a day out with family. You can enjoy the structure of the garden and eat various food stalls to mark the most fun places for a picnic with your family and friends!
The best time to visit this park is around May to August or October to April as the weather of Lahore is pleasant in these months and you can enjoy visiting a park at this time of year. You will enjoy the nature of the park surroundings once you see the most decent places to visit in Lahore!
10. Minar-e-Pakistan
Minar-e-Pakistan is amongst the historical places and the most popular spot in Lahore tourist. This monument is located in Lahore's famed Iqbal Park, one of the largest city parks in the country. Built in the 1960s, the Lahore Resolution was passed on 23 March 1940 and bears a particular patriotic emotion for the country.
This passes the commemoration of the Lahore Resolution where soldiers march around the landmark to bear the silence in the country.
Visitors come to this famous place to observe a mix of Islamic, Mughal, and modern elements to the monument's design. This adds Lahore visiting places where it marks the iconic landmark in the city of Punjab.
To visit this spectacular landmark is around any time of the day at this place stands out in the day and illuminates at night. When planning to visit this spot, you will enjoy the Lahore entertainment places in the province! Do add this to the top places to visit in Lahore.
Wrap Up
Here are the top ten places to visit in Lahore where you will enjoy each place with happiness and add the fun and adventure of visiting this spectacular city in Punjab. Whether you travel for architecture or enjoy the national cuisines, Lahore will never make you feel bored and will add the fun and entertainment for a great tourist destination. If you plan to travel to different places to visit in Lahore, be sure you add to your travelling wish list! Once you come to Lahore, do explore these fantastic places!