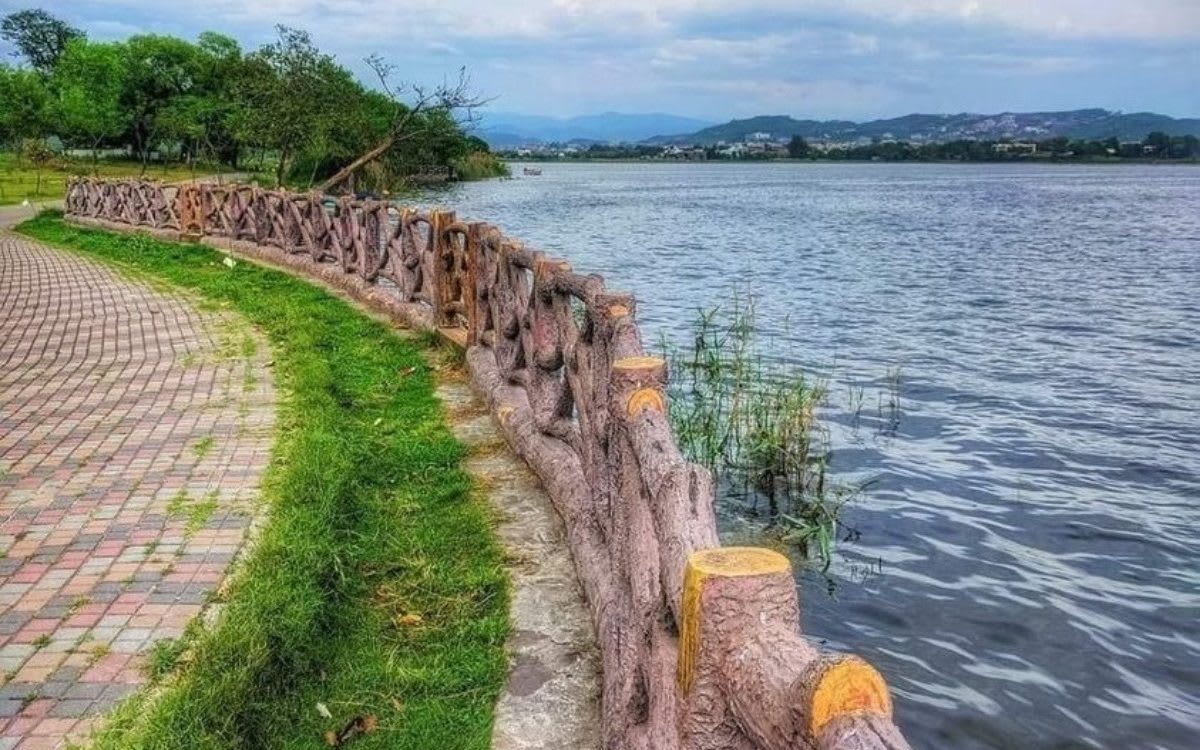 Lake View Park Islamabad is one of the capital's best picnic spots. This huge park is located on Murree Road. Whether you want to go on holiday or have sightseeing or just want to relax with your family at weekend, in Lake View Park you will find something for you.
One can visit the park between 10:00 AM and 10:00 PM and it's open throughout the year. The park charges a cheap ticket for entry.
There are many attractions in Lake View Park and these include beautiful gardens with flowers and fountains, a big area for events and festivities, picnic spots with barbecue options, a camping area, children play area, golf carts, passenger trains to see the park, boating option, fishing options, horse riding, paintball arena at Battlefield Islamabad, birds aviary, golf facility at Battlefield Islamabad, swings, jumping castle, rock climbing at Ibex Club, Amusement park rides, 5D Motion Ride at F1 TRAXX, ATV riding and also swimming pool.
This park, which has been built on the banks of the lovely Rawal Lake, contains well-kept gardens with flower beds and sitting arrangements. It has fishing and boating facilities, lakeside spots to sit and enjoy. The place is the biggest bird aviary in Pakistan.
Sporting activities are backed by popular Battlefield Islamabad and Ibex Club. The place also has an F1 TRAXX amusement park to enjoy with family.
It's also a perfect area for children to ride, try riding, go boating, take a Lake View Park trip and take part in several other activities in one of Islamabad's greatest picnic locations.
The place is packed on school vacations and weekends. Many cultural and musical events took place here throughout the year. The park also provides many refreshments stops so one can enjoy food in this beautiful location.
As the park is fairly vast, the visitors may tour Lake View Park with a passenger train or golf carts that too for a quite minimal fee.
You don't have anything to worry about either in terms of cleanliness and security. This is because the park is being managed by the Capital Development Agency (CDA). For families with children, it is therefore well-maintained and totally safe.
Whether you are traveling to Islamabad for work or a tour, you ought to spend some time to come and appreciate all that this stunningly lovely park is offering.
Lake View Park is one of several places of recreation in Islamabad and attracts many visitors. Lake View Park Islamabad rides are popular with youth.
You must include this tourist site as part of your trip list the next time you visit the capital if you have never had a chance before. You can check Lake View Park Islamabad pics for reference and can see how beautiful this place is built and maintained.