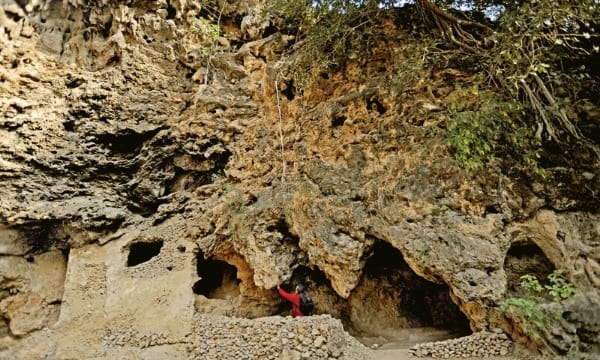 2,500-year-old Buddhist Shah Allah Ditta Caves are located on our Margalla Hills, which are related to the Buddha's route from India to Tibet. This village receives a large number of tourists every year.
Places of religious, cultural, and historical values are key contributors to Pakistan's GDP since many visitors from all over the globe travel to these places for religious tourism to pay their homage, or perhaps even culturally inquisitive.
This is simply another reason why maintaining and protecting these historical places by our state is essential.
"Sadhu ka Bagh" is the local name for the caves, which are located adjacent to the shrine and grave of Shah Allah Ditta, a Mughal-era dervish. As well as Buddhist relics dating to the 8th century, the caves include 2,400-year-old paintings and other Buddhist artifacts.
Archaeologists believe that Buddhist monks, Hindu sadhus, and Muslim ascetics meditated in the caves.
Shah Allah Ditta Caves History
The old village is named after a well-known Mughal Dervish, Shah Allah Ditta, and it has a major significance due to its perennial historical heritage and beauty that pours like a river.
This village has been used as a road linking Kabul with Gandharan for over 700 years and subsequent kings and Mughal rulers regularly traveled there, especially while traveling from Afghanistan to Hindustan.
Nevertheless, the centuries-old murals and the road leading to Shah Allah Ditta village (which is 700 years old) are deteriorating due to extreme weather conditions and unregulated tourist and research activity and must be conserved immediately.
Many people are drawn to the region, the village, and the caves because of the nice climate, lush green surroundings, and historical significance.
Shah Allah Ditta is a centuries-old village and a union council located at the foothills of the Margalla Hills in the Islamabad Capital territory.
The Village is believed to be more than seven hundred years old and was used as a route from Kabul to Gandharan City of Taxila by Alexander and Sher Shah Suri while Mughal rulers and other emperors often passed through while traveling from Afghanistan to the Hindustan.
Relics of the Buddhist era dating back to the 8th century can be found here along with burnt diyas and trees with amulets tied to them. Shah Allah Ditta caves are located on the route leading towards Khanpur.