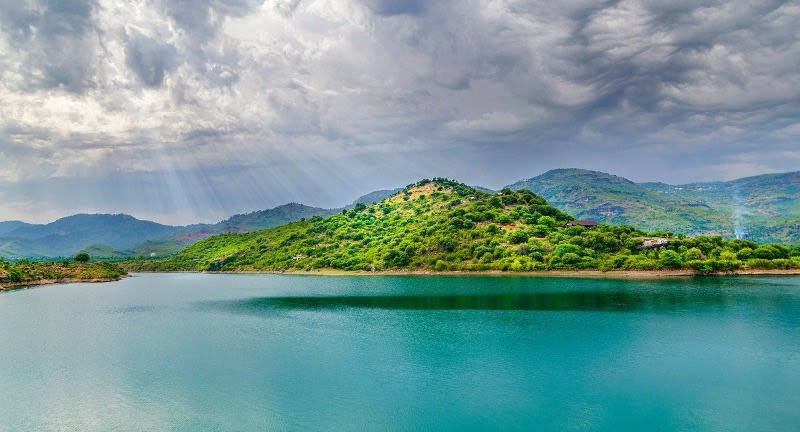 Khanpur Dam is considered to be one of Pakistan's most magnificent dams. It is located on the Haro River, which originates in Abbottabad, Pakistan. On Taxila Haripur Road, it is located in Khanpur, in KPK, some 50 km from Islamabad.
Khanpur Dam Spillway is 52 meters high, and the Khanpur Dam area can hold up to 110,000 acre-feet of water. President Ayyub Khan ordered the construction of Khanpur Dam during his tenure. In some places, the Khanpur Dam is only 40 feet deep.
The motorway distance from Islamabad to Khanpur Dam is 52 kilometers. From Abbottabad, it can be reached in 3 hours. Khanpur Damn can be reached by any type of vehicle and you will find carpeted roads here.
Activities You Can do at Khanpur Dam
There are many activities to do at Khanpur Dam.  These activities include Cliff Diving, Paragliding, Snorkeling, Archery, Jet Ski, Boating, Zip lining, Parasailing, Camping, Air gun shooting, Rafting, Swimming, and many more.The water quality of Khanpur dam is so good. Khanpur dam fishing point is also a good option.
Khanpur Dam offers a wide range of activities and attractions. There are many activities and tour packages are available for Khanpur Dam. It is expected that the dam will soon open for skydiving and scuba diving.
It is possible to paraglide over Khanpur Dam. During high water levels, Khanpur Dam's cliff diving height ranges from 10 to 15 feet. Cliff jumping height is 20-25 feet if Khanpur dam water's level is low.
Khanpur Dam has a large number of resorts and hotels to choose from. For different water sports activities, Adventure Resort is the best resort or lake view hotel Khanpur dam to go to.
Also, Mabali Resort Khan pure Dam offers you the best services available. For those who wish to spend the night at Khanpur Dam, a guest house is also available.
Khanpur Dam is best visited between June and October, as well as in the winter. In the summer, the heat of hot days can be reduced to a manageable level.
Khanpur Lake is now a popular picnic and adventure spot for nature lovers and outdoor enthusiasts alike. Khanpur Dam Island has become one of the most popular picnic spots in the summers. Khanpur Dam Water Sports are not restricted due to Covid-19.